Or why I'm glad my Papa didn't have Instagram ~ Brain Reel #32
Last night I dreamt of my Papa.
I was in some kind of alternative universe where I could log into his Instagram account and scroll through the archive of his stories. And I watched his life play out; day by day, hour by hour, story tile by story tile.
I watched him boast about the tennis skills he seemingly had, followed him through airports as he travelled for work, looked at photos of him and my gran and him and my mum - along with the gifs and the text and the emojis proving his love and pride.
I also saw things I didn't really want to see. I could tell he was shallow sometimes in the way he wrote his captions, and sometimes he said things that were a bit offensive in the video snippets I watched, and - it was a dream, remember - I think he was having an affair?
When I woke up, I felt like my estimation of him had gone down somehow. And I was thankful it was all just a dream. But it got me thinking about the mystery of dead loved ones, and how perhaps there will be less of that for generations to come.
See, my Papa died when I was 3. He was 58. He had a heart attack, and it came out of nowhere. And all my life I've been told that I get many of my creative traits from him - my art, my music - traits that I'm really proud of (though tend to only really indulge in privately).
I was his third grandchild; twin boys a year before me, my brother Ross 2 years after me, he died before my other brother Gordon was born - and I'm told, maybe because I was the only girl and I was pretty boisterous as a child, that I was the one he doted on. Knowing that has always made the fact of him not being here for most of my life pretty hard to stomach.
Despite him dying when I was such a young age, I still feel he's played a huge role in my life. I have an amazingly supportive family, but sometimes growing up, when I'd get upset about the stuff I felt no one else could understand, I'd tell myself he would've got it, and it'd make me even more sad then knowing he wasn't there to comfort me or hear my side of the story.
I'm very easily reduced to tears thinking about him, which sometimes feels overly self-indulgent considering how little I knew him. Maybe I'm mourning the loss of the idea of this person I've been told so much about; this incredible person so similar to me, who loved me, that I didn't get to hang out with.
The reality is, though, there's a lot of mystery to my Papa.
Of course, I'm relying on stories and anecdotes and the tears of those who knew him well to paint this incredible picture of him. We have some video of him, from that little snippet of time between the point when camcorders were affordable enough for ordinary folk to own, and the point when he died.
Realistically, I don't know him at all. I can't remember, I don't think, him in person - I think I only 'remember' the stuff on the video tapes and the stories I've been told. I have a photo of him up on my wall right behind my laptop - grinning away semi-mischievously, clutching my gran with love - and it ties in perfectly with my image of him; but maybe that photo is what gave me that image in the first place.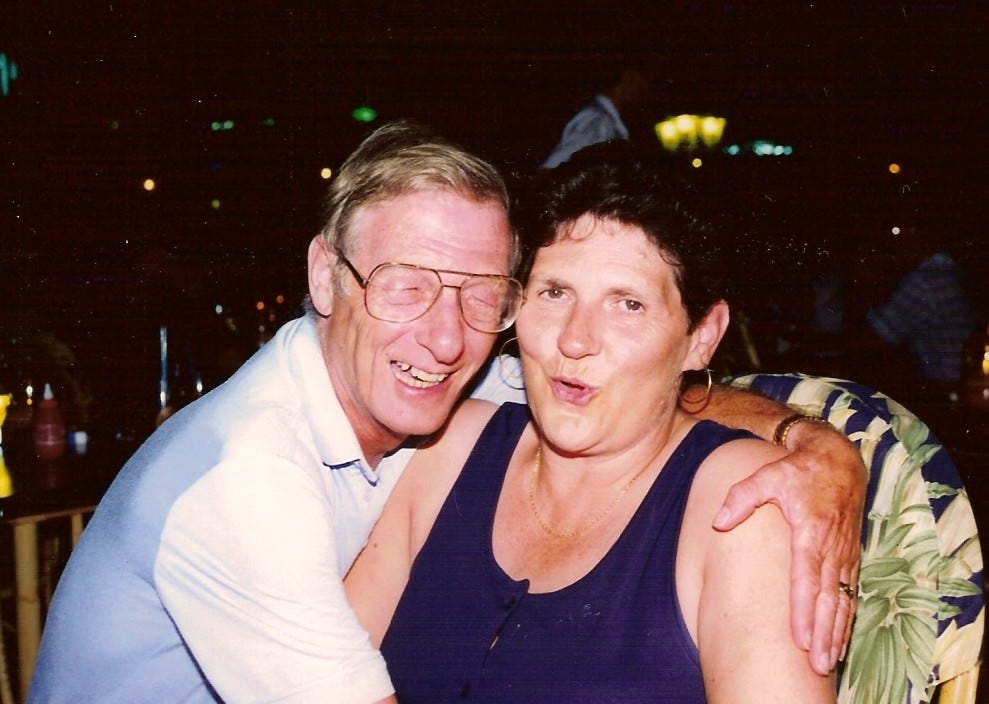 So I wonder, if I could have logged into his Instagram account as a kid, and scrolled through the archive of his stories (setting aside for a second the fact that Instagram was founded 17 years after his death), what would that have done for my image of him throughout my life? Would it bring my version of him now crashing down?
Of course, people have read their ancestor's diaries and sifted through treasures found in the attic. Finding out about your relatives' inner lives isn't unique to the internet age. But it's also true that I feel as if seen a friend recently just because I see them post online, when in fact it's been months. There's a certain intimacy in watching 'very online' people display their lives on screen; you really do feel like you know what they're like, and you feel - sometimes - like you yourself are part of it.
And if my Papa's Instagram was there, I'd scroll through it. And if I could log in, of course I'd look back through the stories archive, and god I'd probably read his DMs. I've been hungry for information about him all my life, to add to this image of him I've turned to for motivation and for solace.
I've not had someone close to me die who is also very online. I'm not sure social media platforms are old enough to really allow for kids to be born, grow up and then discover a dead relative who was super active in posting about their lives - there's only been 10 years of Instagram after all.
So as time marches on, and future very online grandparents die before their grandchildren are born, or when they're too young to know them, will their mystery be solved? Will those grandkids really get to know their dead grandparents through their rambling stories and self-indulgent captions? Will they like them, seeing their life play out through their own words, as opposed to via the passed on, often rose-tinted, stories?
It would never be enough though. In my dream, I'd scrolled through everything - all the stories - and although I'd got to see Papa's life play out in front of me, I still felt like I didn't know him. It was a bounded archive, about which I couldn't ask for more.
I guess there's something to be said about the mystery of my Papa. I have perhaps an unrealistic and over-simplified version of him that exists in my mind, but I love that version of him - and I don't want him to go anywhere.
And knowing someone through posts and photos and voice memos that weren't for you, that were for someone else, or an audience of people that existed before you were born...it's never going to fill the gap of wanting to get to know the person through what they say to you, how they act towards you, what they write in messages meant for you.
If my Papa had an Instagram, I'd just be an onlooker, like everyone else. In fact, everyone would have got to see it years before me. I'd be late to the party. When folk tell me about my Papa, it feels so unjust that I don't get to learn this stuff first hand, that I have to rely on things people tell me about how they perceived him themselves. He could have been so different around me than around them, who knows? Not me. And no amount of digital archive would change that.
I wonder if some future ancestor of mine will read this - or is reading this right now. I guess we all want to be understood - or, not misunderstood. What will they get from reading this post? Am I still a mystery? Do you like me?
---
📌 Tip Reel 📌
I know I linked to a Rachel Connolly piece in the last newsletter, but glorious writing is glorious writing, and here's her latest triumph on Silicon Valley, how tech cannot save us right now and how "the motivation to work toward mitigating disaster is minimal for those with the most power to do so".
This piece from a few years ago in the FT - The speaker's circuit is where original thinkers go to die - is hilarious and true, and it calmed a lot of whirling crappy thoughts I was having recently about measuring success. (Paywalled)
My pal Heather is a wonderful writer and she has a story in this anthology called 'Outsiders'. Seemingly her story is about bizarre pandemics sweeping through populations, which she wrote 18 months ago... I've just pre-ordered, you should do the same. I mean, just look at this blurb:
This is an anthology about people who don't fit in. These stories explore what it is to be an outsider, from some of the most exciting voices in short fiction.

From lovers to loners, moonlighters to midnight walkers, these pages are haunted by more than ghosts: loss, lack of direction, insecurity and otherworldly hunger. 

But most importantly, it asks the question: if we're us, then who are you?
Bonus: My dad went viral last week and for the most incredible birthday present.
Currently reading:
---
🕯 What I'm Up To 🕯
Science Disrupt podcast
Our latest episode is with Rutger Bregman (iTunes / Spotify), author of Humankind: A Hopeful History (2020) and Utopia For Realists (2014), about what it means to go back through the history of science and revise big ideas, how being an activist and an academic fit together, and whether kindness really is 'enough' to uproot problematic societal systems and actually change the world.
Smoke & Mirrors
I was interviewed on The Extraordinary Business Book Club podcast about media hype (and who's to blame), the arduous process of getting ideas out your head into book form, why there's no shortcut to just doing the hard thing, and why (some kinds of) business books aren't great. You can listen to the episode here!
---
Find me elsewhere on Twitter, Facebook, LinkedIn, Goodreads, Instagram, Medium, or through my website.

Until next time,
Gemma 🚀
---
Gemma Milne is a science & tech writer, author of 'Smoke & Mirrors: How Hype Obscures the Future and How to See Past It', and is co-host of the Science Disrupt podcast.