Brain Reel #24
The wonderful world of insect farming, support authors with pre-orders, action on class
Hey you lot,
How's everyone's December going? This weekend I've been at my boyfriend's dad's place for the first of 3 family Christmas' and it's been lovely. I was given books and gin and honestly what else could I possibly ask for?
On with the reel, eh?
---
🔬 Science Reel 🔬
I've been thinking about insect farming recently. I interviewed the lovely Antoine Hubert, CEO of French insect farming startup Ynsect, on-stage at Slush last month (you can watch back here) and we had a fab conversation about what the past, present and future of the industry looks like.
Past: insects were outlawed from being used for anything that might end up in human food in the EU. They could only be used in pet food. The tech wasn't in a place that automated farming could be done cheaply at scale.
Present: some people talk about insects as a high-protein post-gym snack. Nice, but not the real opportunity in the space. Exciting space is in using insects as feed for the fish and meat we eat (as opposed to the unsustainable current forms of feed such as fishmeal), and maybe even using it as a high-protein powdered flour ingredient at the base of baked good such as cookies or bread or whatever. EU regulation currently (as of 2016) only allows for it to be used in fish feed. The tech is there to do it now.
Future: it's looking like regulation for the other feeds (poultry, pork, beef etc) as well as human meal ingredients could be incoming (for the UK, who knows re Brexit mind you…) and it looks like a $1 trillion market could open right up. A whole new industry of suppliers, processors, farmers and so on is already kicking off, but looks to grow.
Awesome news for food security, for the planet and for human health.
In short, insect farming is fascinating, and it's one of my favourite industries to follow right now.
(Bonus: of course, there's a whole section in the food chapter (chapter 1!) all about insects in my upcoming book!)
---
📖 Book Reel 📖
So SMOKE & MIRRORS is now fully live on Amazon - with the finalised cover and blurb and all sorts! I also recently received an early proof version of the book, all printed out in the paperback format, and safe to say I was pretty teary… It's all feeling very real indeed my friends!
Here it is: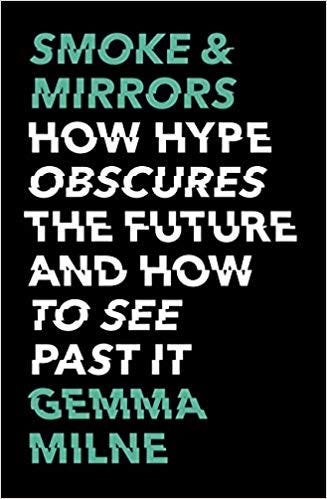 I wanted to do a wee section here on pre-orders, as A) I've had a few people ask what 'the point' is in them beyond simply 'booking in' a copy early in case you forget, and B) I've had some other people asking how they can support me and this book of mine - so I wanted to share some book industry knowledge which, for an avid reader like me, has really changed how I think about buying books.
First piece of knowledge: publishers make decisions about 6 weeks before your book comes out what the 'print run' is going to be. This means how many books they will literally print out for the first 'round' of sales. Authors are told not to get too hung up on what the print run number is, but below 1,000 is quite disheartening, as it signals a lack of confidence from the publisher in the book's ability to sell. It also influences how much of an effort a publisher puts into marketing your book - low print run, small amount of 'free' publicity; large print run, large push on 'free' publicity plus actual marketing budget. And publishers make decisions on how large the print runs will be based on early interest from press, book shops, Amazon projections…and these are all influenced by pre-orders.
Second piece of knowledge: book charts run on a weekly basis. So The Times bestseller list, for example, runs across a 7-day period. Number 1 on the list is the book that sold the most that week. Not in total, just that week. Like music charts. Pre-orders all 'count' on the day your book releases - not the days or weeks the orders were placed. So if you get 500 pre-orders, all 500 count on week one of sales…which of course massively increases your chances of making it onto the charts. Which the book industry really do pay attention to. A book on the charts - even at number 10 - has a far higher chance of being put on bookshop tables at the front of the shop, or reviewed in the newspapers, or put up for awards.
Adding these two pieces of knowledge together: pre-orders are super important for the future success of a book, and reduce a lot of the upfront stress for authors before their books hit the shelves.
Of course, I'd really love people to pre-order my book if they intend on buying it anyway, for all of the reasons above, but learning all this in the process of going through the book publishing process has really made me shift the way I buy books. If someone has a book coming out which I want to read, or if I really respect the writer, I now understand the importance of pre-ordering, or buying in the first week. If I don't discover a book until later in its publishing life, fine, but if I have the chance to support in that extra wee way, I try my best to get involved.
(Plus, what a glorious little surprise to receive a few months later!)
And so yes this is, of course, a self-serving little section of my newsletter, but I've had people asking how best they can support or help or promote this book of mine, and the honest answer is simply to pre-order it. If you fancy tweeting or instagramming or facebooking about it after, even better! The numbers are what the book industry are looking at, and I have a big task ahead of me in getting my book out there and read by people!
—
Some pre-orders from some other awesome writers I've already got booked in (let me know if you have a book coming out and I'll get involved too!):
(Pre-order links for 'Smoke & Mirrors: How Hype Obscures the Future and How to See Past It' for your bookstore of choice: Amazon or Foyles or Waterstones, or Blackwells or Wordery or Book Depository..!)
---
🧐 Musing Reel 🧐
I've been thinking about class of late. Actually I think about class, and privilege, quite a lot. Sometimes it's more from an 'academic-I-wonder-why-that-is' perspective, but most of the time it comes more from a place of frustration.
Three recent tweets to illustrate thoughts:
A big part of my recent thinking comes from an internal frustration around privilege particularly amongst peers and the industries I work in (publishing, journalism, science and tech all have *huge* class issues), so it can be very front of mind day-to-day.
All of this is to say I'm keen to *do* something about this next year. I don't yet know what that looks like - maybe it's finding more opportunities to spend time in communities like the one I grew up in, or maybe it's getting more involved in the amazing schemes which already exist in the space (I've backed this amazing PressPad crowdfunder and am so hoping they make it to 100%), or maybe it's starting something in the 'big idea nonfiction' book space in terms of encouraging more awesome people to get writing their own big ideas. After the election, I guess it's a feeling of trying to find something that makes most sense for my own skills, voice and interests.
And I'm psyched about getting started.
---
📌 Tip Reel 📌
(If you're not already following me on Instagram, I write some more fleshed-out book reviews on there if you fancy that kind of a thing (amongst the regular freelance / travel / London photos that is!) - give them a wee look here)
Books I'm reading right now:
I cannot recommend Laura Cumming's 'On Chapel Sands' highly enough - my book of 2019. Buy it, read it, love it.
The co-founder of Wired magazine and the former executive editor of MIT Tech Review recently started NEO.LIFE (all about the future of life - biotech and beyond), which is launching a book on Kickstarter filled with hopeful visions of the future from folks like George Church, David Eagleman, and Lux Alptraum. Sign up to get an 🚨 when it launches
Lawrence and I have recently got a bit obsessed with BBC TV show Fake or Fortune. I'd never heard of it before November, and now we've been watching it from episode 1 right through (we're almost done which I'm super sad about!!) Essentially it's this delightful show where people put forward a piece of artwork they are convinced is by someone significant, and the hosts (journalist Fiona Bruce and art dealer Philip Mould) use science, provenance, and connoisseurship to try and prove it one way or the other. Bloody brilliant, honestly. I had to share in case any of you lot, like me a month ago, weren't aware.
---
➡️ Next Reel ➡️
---
✍️ Work Reel ✍️
---
Find me elsewhere on Twitter, Facebook, LinkedIn, Goodreads, Instagram, Medium, or through my website.

Until next time,
Gemma 🚀
---
Gemma Milne is a Science & Tech Writer, currently writing a book about hype and idealism in science and tech, is Co-Founder of Science: Disrupt, and loves a bit of public speaking.